Best Things To Do In Barcelona
April 3, 2020
From Gaudí to Messi, towering architecture to towers built of people, visiting the sea to gorging on produce, Barcelona's to-do list is as plentiful as its sunny days. It's a city that seamlessly melds the medievally old with the most modern spectacles. So what really cuts it? Consider this your capsule edit of attractions: the definitive list of what to do in Barcelona for the time-smart traveler.
Catedral de Barcelona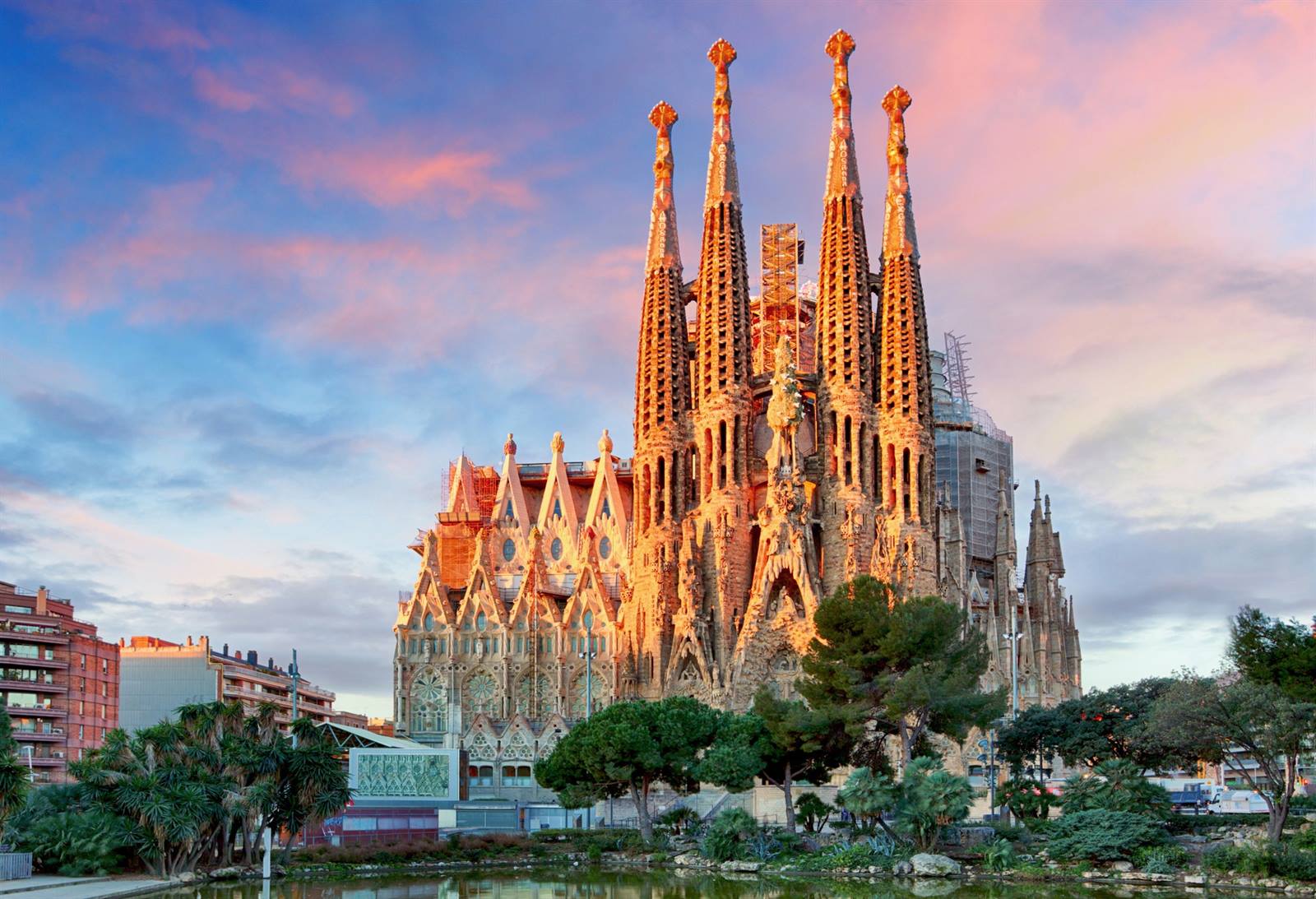 It might not have the quirkiness nor the hype of La Sagrada Família, but it holds court: a giant Gothic temple that looms large against the narrow lanes and matchbox shops. Its site originally housed a Roman temple some 2,000 years ago, when Barcelona was still called Bàrcino (you can track down parts of the old Roman walls and aqueduct nearby). Today, the cathedral's official name, Cathedral of the Holy Cross and Saint Eulalia, honors Eulalia, a local girl who refused to accept Roman emperor Diocletian's demand to recant her Christian faith. It's beautiful and atmospheric, as religious buildings so often are. Regardless of your personal level of piety, the architecture inside—plus the city view from the short elevator ride to the top—is quite something.
Casa Batlló
It's easy to see why Casa Batlló has been likened to Claude Monet's Water Lilies: Covered in shards of stained glass, it sometimes appears blue, then green, then shimmering like the glassy layer of a lake. Textile industrialist Josep Batlló commissioned Gaudí to design this home after seeing what Gaudí had done with Park Güell. Influenced by nature, Casa Batlló has no straight lines (because they don't exist in nature, said Gaudí), stone pillars that contort like animal bones, and a tall, ocean-blue stairwell that's very Jules Verne. The result is both grand and intimate.
La Boqueria
La Boqueria might be Barcelona's oldest market—it started life in 1217 as a mere huddle of meat stalls on La Rambla—but tradition isn't staid. More than 200 stands unite like a foodie's choir: traders' shouts, the clink of glasses, welcome greetings sung out ("holaaaa"). Though, for all the atmosphere, it's the smell that gets you: warm, ocean-salty, freshly fried fish: the kind that lines your nostrils, excites your stomach, makes your physician tense, and has to be washed down with a glass of cava. Grab a fruit smoothie from the technicolored stalls as you walk in. Then do a lap: the deeper you venture, the better the value.
Tibidabo
Hear the words "fairground on a hill," and your instinct likely jumps to, "Um, really?" And while Tibidabo mountain is a fairground, it's also so much more. You'll first notice it from the city center: high on a summit, the silhouette of a majestic temple makes you curious to go. Officially called the Temple Expiatori del Sagrat Cor (or Sacred Heart church, easier on the tongue), its roof is topped with an enormous bronze statue of Jesus that you can take an elevator to. Mind-blown (and a little breeze-blown), you suddenly see the charm of the amusement park next to it—like its retro-styled attractions, such as a Ferris wheel with color-pop seating pods, built for the views as much as the screams. Adults love the views; kids love the rides.
Parc del Laberint d'Horta
Barcelona is famous for its buildings being works of art; this is one of the few examples of a garden stepping up to that level. On the wilderness spectrum, Barcelona's oldest park is beauty-salon manicured: splendid temples, lily-glazed ponds, sculptures of mythological figures, and a cypress maze that's clearly given the gardener's pruning shears a workout. The labyrinth is definitely the standout feature, a maze made of elaborate swirls of thick foliage. It recreates the Greek myth of Theseus destroying the Minotaur (a part-human, part-bull monster) to fall in love with Ariadne. A similar fate awaits those who make it to the center—no bovine slaying required, but you will find love in the form of a statue of Cupid. If that all sounds a bit soppy, scoff later: the maze is harder than it looks.
Picasso Museum
A museum spread over five palaces—we'd expect nothing less for Picasso, who moved to Barcelona as a 14-year-old boy and made frequent trips back throughout his life. Downstairs, a courtyard and Gothic archways lead into white studios that illuminate his works. Upstairs, the rooms are lavish: epic painted ceilings that almost drip crystal chandeliers. Visitors flock here to see Picasso's work, but the special setting is why they come back again and again. If you're expecting Picasso's big-hitters, you might be disappointed—for a few minutes. Guernica resides in the Reina Sofía in Madrid, The Weeping Woman at London's Tate Modern. What Barcelona's museum has, is everything around those postcard images. In chronological order, it shows every brushstroke (all 4,251 works' worth) of how he moved from a classically trained painter (see Ciencia y Caridad in Room 3) to a Cubist pioneer, plus some things we never knew he did, like ceramics.
"The World Begins With Every Kiss" Mural
This romantically named mural was only meant to be a temporary exhibition. It was unveiled in 2014 for the 300th anniversary of September 11, 1714, a day known as Catalonia Day, or La Diada, which commemorates Catalan surrender in the War of Spanish Succession. The day is a tribute to the Catalan lives lost, to regional identity, and to freedom. The mural is made up of 4,000 tiles with photos printed onto them arranged into mosaics by color and density so that, from afar, the 26-foot-tall mural shows two people kissing. This kiss—a symbol of affection, empathy and liberty—felt so poignant that the local government never took it down.
Wanderbeak Tours Barcelona – Born to Eat – Tapas & Wine Tour
With reservations-only groups topped at eight people, Wanderbeak—a portmanteau of wandering while pecking at food—feels like a chatty stroll with that gastronomically savvy friend who's fun to spend a day with. The flagship tour, Born To Eat, is a fact- and food-filled meander around the historic alleys of El Born. It's a not-too-strenuous kilometer stroll that's fully wheelchair accessible, with three stops for tapas, plus a four-glass wine tasting.
Park Güell
Park Güell is an almost make-believe landscape: home to Barcelona's famous mosaic lizard—the image on a thousand postcards—plus spiral towers that look like fairground slides. The city's grandest park began life as a collaboration between entrepreneur Eusebi Güell (hence the park's name) and Antoni Gaudí. The lizard stairway and city views from Nature Square, the large open area surrounded by a wavy wall of mosaics. This is where it's important to know your ticket options. The free ticket gets you into the park, but, honestly, not into the best parts. For that you need a €10 Monumental Cove ticket. Know that you need to book in advance online, and arrive promptly for your allotted slot—there's zero wiggle room with timing.
Blend and Bottled – Wine Experience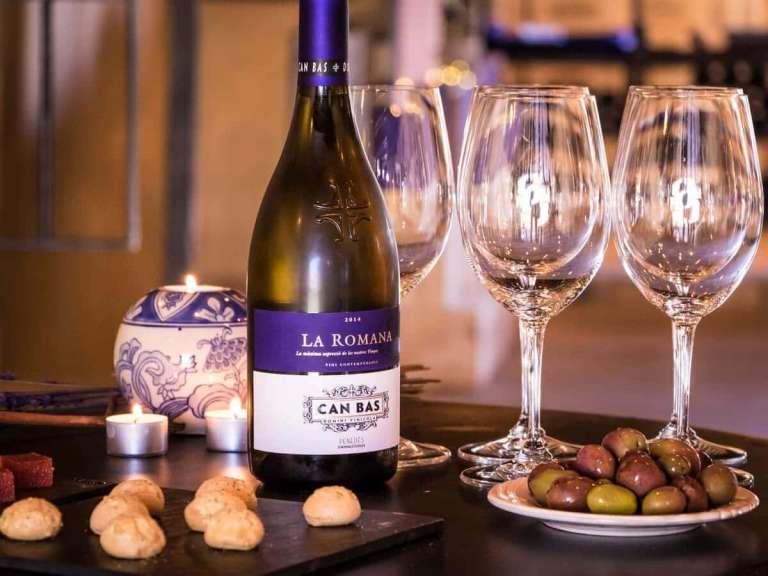 Blend and Bottled's studio feels like a cool living room with a huge tasting table in place of a sofa, industrial-style exposed brick instead of a TV, and and a drinks cabinet that feels like an above-ground wine cellar. Host Claartje van den Bogaard—who goes by Claire—is the antidote to stuffy, pretentious, wine club events. Yes, her classes are meticulously prepared—you'll cover wine theory, sniff and taste your way around an aroma wheel, and never dare sip a glass of wine again without swirling it first—but she's sweet and easygoing.
Santa Maria del Mar
Ask any local to pick their favorite church and we'd bet a glass of (sacramental) Catalan wine that Santa Maria del Mar would be it. If you've read Ildefonso Falcones's thriller Cathedral of the Sea, you already know more about it than you think: the novel's backdrop is the construction of this particular Gothic church, with the lead protagonist one of its stone workers. In real life, the church's history is almost stranger than fiction: in 1428, it was shook by a major earthquake. Then, in July 1936, it was set on fire and burned for 11 days straight. Look inside, and you'll still see the black scorch marks on the roof. The building has very tall columns, set 43 feet apart. Combine that airiness with vast stretches of stained glass and it almost feels like someone's pulling you up into the sky.
La Rambla
Barcelona's most famous street—a nearly one-mile pedestrianized boulevard from Plaça Cataluyna to Port Vell—is still the strolling route for the city's visitors. Even if selfie-stick vendors can't match the charm of the old-school florists, gelaterías, and candy stalls offering bites of crema catalana (a form of crème brûlée) along the way. To predict your next question: But is it La Rambla or Las Ramblas? Well, it's really both. Originally, the area consisted of five mini-ramblas: Rambla de Canaletes, Estudis, Sant Josep, Caputxins, and Santa Mònica, but they're often lumped together and today, the street sign says La Rambla. Annoying as it is to keep your purse clenched from pickpockets for a mile, La Rambla has a charm that keeps the 78 million coming.
Sant Pau Art Nouveau Site
Built by legendary Modernist architect Lluís Domènech i Montaner (he of Palau de la Música Catalana fame) with all the features of Catalan Art Nouveau—extravagant domes, stained glass windows, epic pillars—it was designed to be a building that people enjoyed recuperating in. His vision was a garden city for nursing the sick instead of the clinical-looking spaces we still know today—buildings are oriented for maximum sun exposure, for example. When the hospital was moved further north in 2009, this site went through its own rehabilitation: into a museum and arts venue. It now hosts the runways for Barcelona Fashion Week.
Parc de la Ciutadella
Barcelona's vast city park houses a zoo, regional parliament, and plenty of sites and spots for lounging. Cascada Monumental, built with input from a young Gaudí, is a stunning golden waterfall that both wows and relaxes you. Ditto the serene boating lake beside it. Enter through the Arc de Triomf and the elaborate Modernist building to your right is Castell dels Tres Dragons, built by Lluís Domènech i Montaner. Currently closed for renovation, with no word on a reopening date, it was once the zoology museum. Another beautiful, yet no less mysterious, series of structures are the cast iron Umbracle (palm house) and Hivernacle (winter garden) in front. Go for an authentic slice of city-park life.